Feel the Cross Heat & Air Difference: Superior Heating & Air Conditioning
At Cross Heat & Air, our unbeatable dedication to providing impeccable service, paired with our proficiency in heating and air conditioning applications, ensures your home remains a sanctuary of comfort. For over 13 years, Weatherford, OK, and the surrounding areas have trusted us with their homes' temperature regulation. Trust our expert A/C installation, replacement, maintenance, and repair solutions.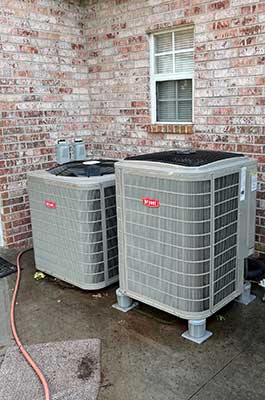 Forging Comfort with Diverse HVAC Service
From setting up new systems to keeping your existing ones running smoothly, you can depend on us to cater to your heating and air conditioning needs with professionalism and precision. Our services are:
A/C Installation: We install state-of-the-art systems that provide superior heat and cool air, ensuring comfort regardless of season.
Replacement: If your system is outdated, we'll replace it with an energy-efficient unit that delivers superior performance, ultimately lowering your utility expenses.
Maintenance: Routine maintenance not only extends the life of your system but also ensures peak performance when needed. Trust us to detect and correct minor issues before they become major problems.
Repair: Our repair team rapidly responds to malfunctioning systems, quickly restoring your home's comfort.
Commercial Agreement: We offer commercial agreements that provide priority treatment, guaranteeing your business is never left in the cold (or heat).
Embodying Warmth and Cool in Customer Service
Our commitment doesn't end with providing top-quality heating and air conditioning services. At Cross Heat & Air, we're all about delivering exceptional customer service. Fully insured and licensed, we pride ourselves on our honesty, transparency, and the high quality of our work.
Create Your Comfort Zone with Cross Heat & Air
Slide into the comfort zone with Cross Heat & Air. Contact us at (580) 819-1089 or email at crossheatandair@gmail.com. Keep up with our everyday heating and cooling adventures on Facebook, and also get tips on keeping your home comfortably heated or cooled. With Cross Heat & Air, every degree counts. Join our expert A/C installation, replacement, maintenance, and repair services!