Embrace Home Serenity with Cross Heat & Air
At Cross Heat & Air, we're your oasis of comfort in an uncertain climate. For over 13 years, we've been creating homely havens around Weatherford, OK, and beyond with our expert heating, air conditioning, and air quality solutions. As a family-owned HVAC company, we believe in extending the warmth of our family to yours, providing highly personalized services tailored to your unique needs.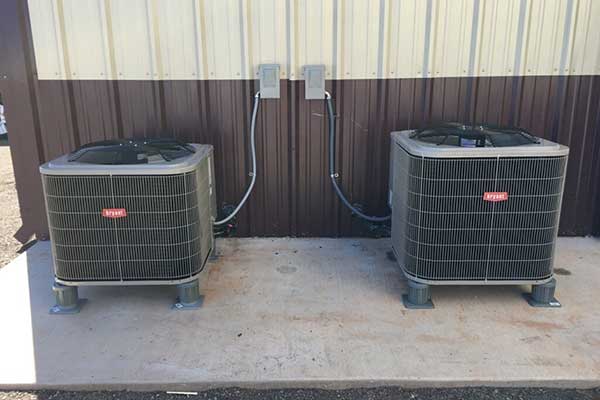 Navigate the Thermal Landscape with Cross Heat & Air
Never be left out in the cold or struggling in the heat again. Whether you're chasing cool breezes on a hot summer day or seeking cozy warmth in the depths of winter, we're here, ready to steer you toward optimal home comfort. Our team of insured and licensed professionals is equipped to manage everything from simple maintenance to full equipment installations, ensuring high-quality outcomes every time.
Achieving the Apex of Comfort
Our HVAC company offerings aim to bring the perfect home climate within your reach and include:
Comprehensive HVAC Solutions: We care for your heating and air conditioning systems, from installation and replacement to maintenance and repair. We're also here for your commercial agreements.
Air Quality Mastery: Optimize your environment with our air quality solutions, including air cleaners, humidifiers, ventilators, ultra-violet lights, carbon monoxide detectors, zoning, and thermostats.
Tailored Services: Experience exceptional service with our air duct sealing and natural gas piping offerings.
Enjoy Cross' Commitment to Comfort Clarity
At Cross Heat & Air, we hold honesty, transparency, and high-quality workmanship as paramount. We pride ourselves on keeping you informed every step of the way, allowing you to make the best decisions for your comfort. Rest easy knowing our team goes the extra mile to exceed your expectations, ensuring we earn your trust during every encounter.
Blaze the Trail to Better Comfort. Contact Cross Today
Ready to take the next step towards enhanced home comfort? Create your ideal sanctuary by reaching our HVAC company at (580) 819-1089 or email us at crossheatandair@gmail.com. Alongside, do check out our Facebook page. It's where comfort lovers like you hang out, share experiences, and get to know us better. Welcome to Cross Heat & Air, your partner crafting a comfortable home climate.