Breathe Pure and Clear: Cross Heat & Air's Air Quality Expertise
Maintain more than just the temperature of your home—ensure the air you breathe inside is free from harmful pollutants. Cross Heat & Air, with over 13 years of experience in Weatherford, OK, not only provides HVAC maintenance but also guarantees you the best indoor air quality.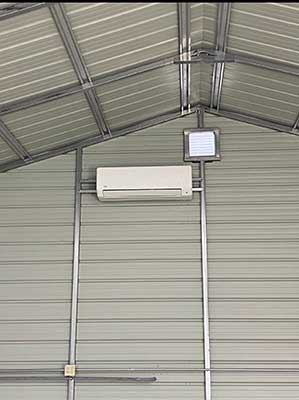 The Ingredients of Pristine Indoor Air
From air cleaners to smart thermostats, our tailored air quality solutions use cutting-edge equipment and technologies to enhance indoor air quality. Here's how we can help maintain your home's air health besides your regular HVAC maintenance:
Air Cleaners: Active air purification to keep foreign particles and pollutants at bay.
Humidifiers: Balance indoor humidity to ideal levels, increasing comfort and reducing skin irritations and respiratory issues.
Ventilators: Effective exchange of stale indoor air with fresh outdoor air without compromising your home's insulation.
Ultraviolet Lights: Destroy microorganisms like bacteria and viruses with the power of UV lights integrated into your HVAC system.
Carbon Monoxide Detectors: Vital safety measures to promptly detect and alert you of dangerous carbon monoxide levels.
Zoning: Create different climate zones in your home for personalized comfort and increased energy efficiency.
Thermostats: From traditional to smart thermostats, we provide solutions that efficiently regulate your home's temperature while minimizing energy usage.
For Us, Your Air Quality Is a Family Matter
Being a family-owned and operated firm, we understand how much your family means to you. We go beyond customer expectations and HVAC maintenance to deliver air quality solutions to safeguard your home's atmosphere. With our fully insured and licensed crew, you can trust us to be thorough, honest, and professional.
Connect with Cross Heat & Air to Breathe Easy
Your journey to better indoor air starts with one call. Contact us at (580) 819-1089 or email at crossheatandair@gmail.com. For more about our HVAC maintenance and repair services and helpful tips on air quality, follow us on Facebook. With Cross Heat & Air, take a deep breath and feel the difference.